This recipe for Coconut Curry Chicken Stir Fry is absolutely delicious. You can prep these ingredients in advance and whip it up quickly when you get home from work. Give it a try tonight. This recipe is adapted from www.myrecipes.com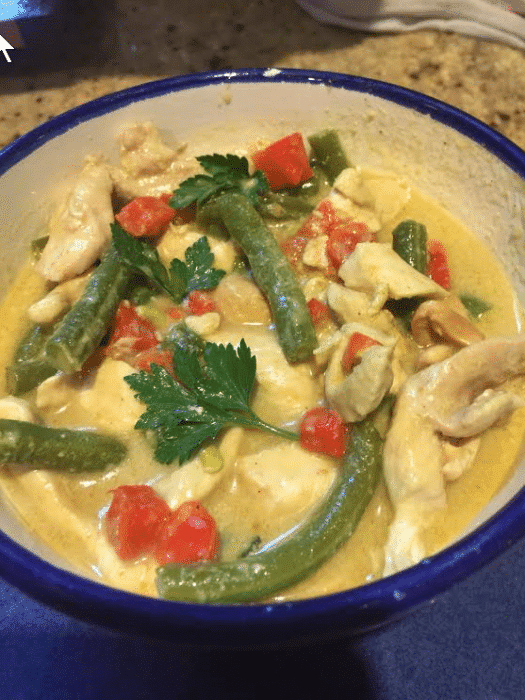 Ingredients
14

oz

coconut milk

2

tsp

curry powder

1

Tbs

corn starch

1

Tbs

brown sugar

1/2

tsp

sea salt
Step 2
3

Tbs

peanut oil

canola oil may be substituted for a peanut-free option

1

lb

chicken breast, diced

tofu may be substituted here for a vegetarian option

1

whole

red bell pepper, sliced

lb

green beans

small green beans, topped and tailed

1

tbs

ginger, grated

1/4

cup

cashews (optional)

whole, salted cashews, toasted

1/4

cup

fresh basil, slivered

for garnish- the basil leaves can be rolled and cut into slivers or "chiffonade" the basil.
Instructions
Whisk together first 5 ingredients in a small bowl; set aside.

Heat wok over high heat until a few drops of water evaporate immediately. Swirl 2 tablespoons oil in pan to coat. (If using a nonstick skillet, heat oil over medium-high heat.) Add chicken, and cook 2 to 3 minutes on each side or until lightly browned. Remove the chicken from the pan; cover and keep warm.

Heat remaining 1 Tablespoon oil in wok over high heat (medium-high, if using a nonstick skillet). Add the ell pepper, green beans, and ginger; stir-fry 3 to 4 minutes.

Whisk reserved sauce mixture, and add to wok with the vegetables. Cook 1 minute or until sauce thickens. Stir in slivered basil and reserved chicken. Sprinkle with cashews; serve with hot cooked rice.
Notes
This recipe can become a vegetarian option by substituting diced Firm Tofu for the chicken. Sautee the tofu like the chicken in the oil in the Wok. 
Serve this dish over a bed of steamed rice.