What makes this recipe delicious is the all natural ripe and juicy peaches. They are so sweet right now- they do NOT need any extra flavor- no flour- no cinnamon-no sugar- nope! Just the peaches and of course a GF lactose free crunchy topping. This warm dessert is fabulous cooled down and paired with a lactose free ice cream ( ota, soy or coconut based) or even a lactose free yogurt drizzled with honey.
Simply slice up the fresh peaches and place them into a 9×9 baking dish . Sprinkle the crisp topping on top of the peaches and bake at 350F for 30 minutes. This dessert is fabulous with family and friends and compliments any gathering from barbecue to back yard get togethers.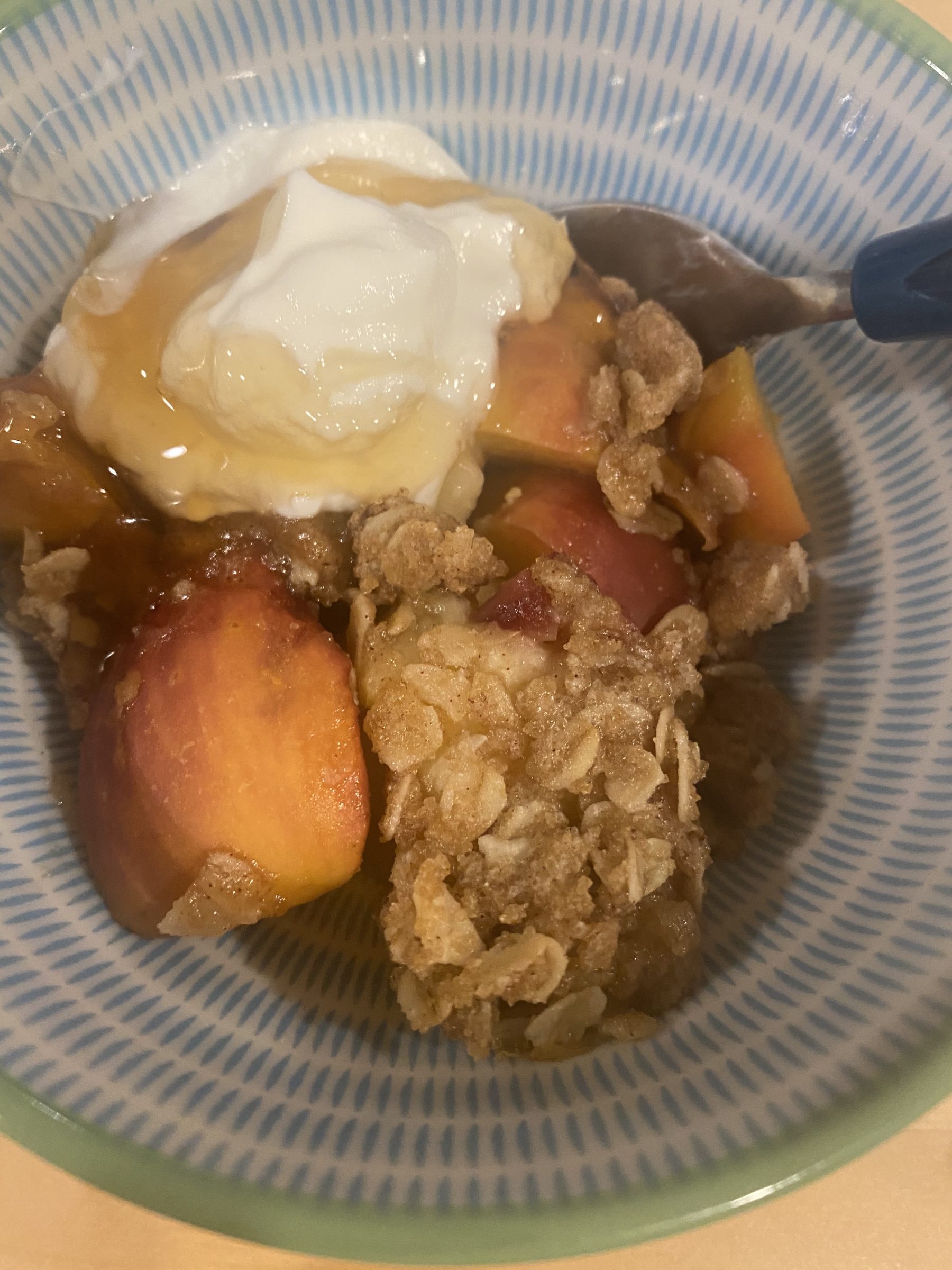 Equipment
mixing bowl, wooden spoon, measuring cups and spoons, 9×9 pan,
Ingredients
8

whole

peaches

ripe and juicy

1/2

C

GF oats

old fashioned or rolled oats

1/2

C

GF all purpose flour

Bobs Red Mill

1/2

C

brown sugar

packed

1/2

tsp

cinnamon

1/2

tsp

salt

1/4

C

canola oil

this a flavorless oil
Serve with
32

oz

Vanilla yogurt, plant based ice cream

1/2 C per person for serving
Instructions
Peaching Filling
Cut peaches into 1/8 slices and place into the 9×9 baking dish.
GF Crisp Topping
Combine all the dry ingredients into a large mixing bowl and mix well together with a spoon.

Drizzle in the canola oil to combine the dry ingredients into a crumbly dough.

Scatter the crumbles evenly over the peaches in the 9×9 baking dish.
Bake 30 minutes, 350F
Serve with a plant based ice cream like vanilla oat ice cream, coconut based ice cream or soy based ice cream or a lactose free vanilla yogurt
Jump to Recipe