The Power of Self Care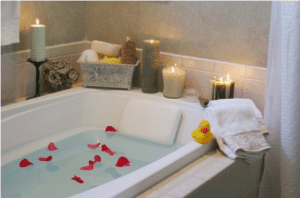 I met Angela this morning as she worked the check out line at Whole Foods in Wynnewood, PA. I was emptying my cart of items onto the conveyor belt which included a few soaps and bath supplies for holiday gifts. "I love theses bath salts," Angela told me as she packed a box of effervescent fizzie packs into my recycled bag. What started as a few polite exchanges, ended being a discussion on ~ the power of self-care .
From the time I had unpacked my cart and repacked the grocery bags- I found out that Angela doesn't just take a bath- she has what she calls a "spa experience." "I buy the softest white towels I can find," she exclaimed. Being from Brazil, I also found out she travels a lot and has soaps in her "spa" from all over the world perched in a wicker basket from Morocco. "Yes, my bath time is like a spa sanctuary- a real spa experience," she stated enthusiastically! Angela also told me she has many current magazines and a bucket of iced waters in her bathroom.
"I'll be in there for hours because it is one place where I'm not on anyone's schedule. I have no one to answer to and I can really unwind. It's my time," she stated.
Having Your All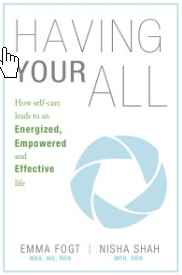 When I told Angela I wrote a book on that very topic (Having Your ALL) – the power of self-care – she lit up. "I used to own a bookstore," she
said. Our conversation wrapped up a few minutes later. I left the store affected by her positivity and willingness to really have a good chat. I walked to my car inspired and unloaded my groceries at home with gratitude.
"I need to have a spa experience," I thought and with that – I tossed a bar of soap onto the stairs to be re-gifted to my new "spa experience." When was the last time you took time for self-care?
What will you put on your self-care list this New Year 2016?
If you have questions about how self-care leads to an Energized, Empowered and Effective Life, please feel free to contact Emma for your Expert Nutritional Personal, Professional, Team Building or Corporate needs.  Contact Emma Fogt here.