Color up gray winter days with a fruit salad bursting with Vitamin C.
This zesty salad contains bright and sweet tropical flavors and provides plenty of Vitamin C for the day in each cup!
"The data show that vitamin C is only marginally beneficial when it comes to the common cold," says Dr. Bruce Bistrian, chief of clinical nutrition at Harvard-affiliated Beth Israel Deaconess Medical Center. Though it may not prevent colds it can at least 200 mg of vitamin C per day did appear to reduce the duration of cold symptoms by an average of 8% in adults and 14% in children, which translated to about one less day of illness. (1).
The human body does not store vitamin C, so people need to get this nutrient from their diet every day. Taking mega doses of Vitamin C Supplements also don't work as only about 400 mg /day are absorbed- the rest is excreted in the urine. Getting Vitamin C from food is the best way to get Vitamin C.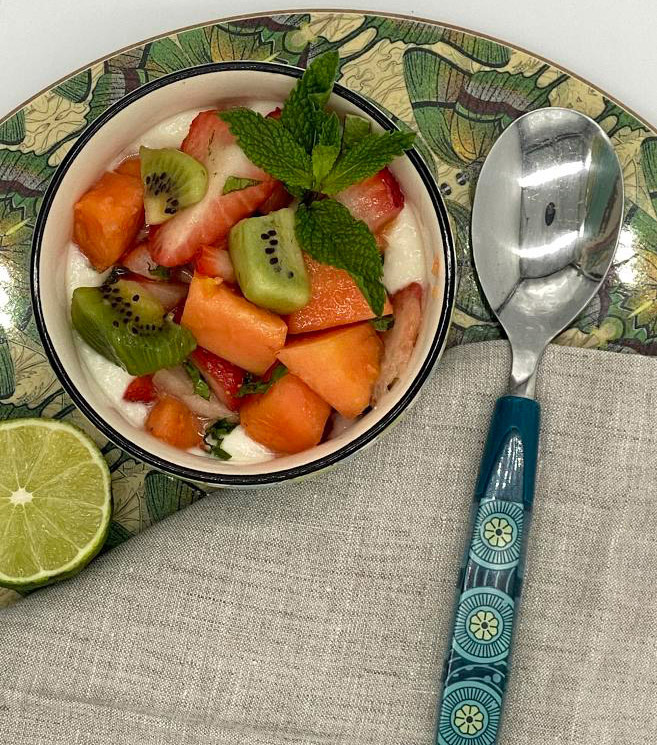 Equipment
Knife, cutting board, zester, juicer, large mixing bowl
Ingredients
Papaya, Strawberry & Kiwifruit Salad
1

whole

Papaya

peeled

2

cups

Strawberries

diced

6

whole

Kiwi

peeled and cut into bite-sized pieces
Lime & Mint
1

whole

Lime

zest only

2

tbsp

Lime Juice
Instructions
In a large bowl, mix papaya,strawberries, and kiwifruit

Add mint, lime juice, and lime zest to the mixed fruit and toss to mix
Notes
Serving Ideas:
Serve this fruit salad over Greek Yogurt
Add a Cup of the fruit salad  to a bed of arugula and goat cheese
Simply serve individual fruit salad in fancy glasses or bowls
Can Vitamin C Prevent A Cold? Harvard Health Letter, January 2017.
https://www.health.harvard.edu/cold-and-flu/can-vitamin-c-prevent-a-cold
Side Note: Dr. Bistrian was my first boss in Boston when I was a Nutrition Support Research Dietitian- incredible nutrition scientist and physician!