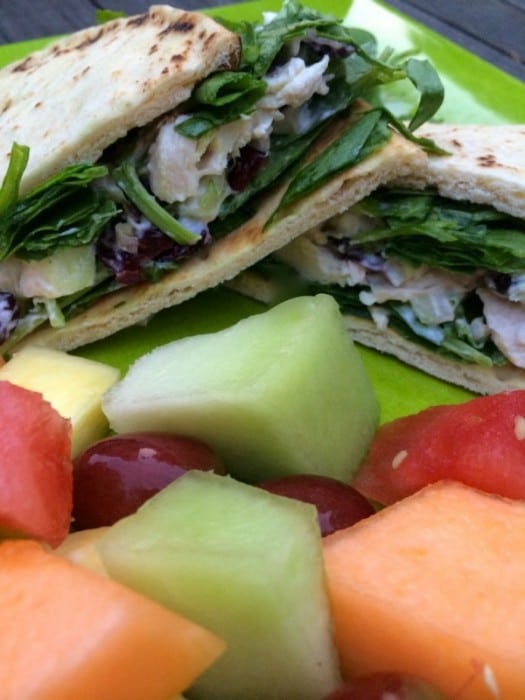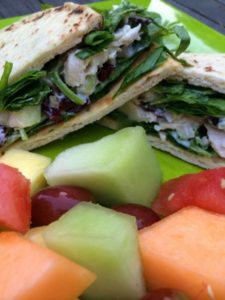 This recipe dresses chicken with the flavor of cranberries and the  power of spinach. 
Cranberry Chicken Salad on Flatbread
Makes 8 servings
Portion: ½ cup chicken salad on 1 flatbread roll
Prep Time: 15 minutes
Cook Time: 5 minutes
Ingredients
1 cup dried cranberries
⅓ cup 100% cranberry juice, unsweetened
½ cup reduced-fat mayonnaise
⅓ cup fat-free poppy seed dressing
8 oz. grilled white chicken meat, diced
1 cup sliced celery
¾ cup thinly sliced scallions
2 cups shredded fresh spinach
8 flatbread rolls, split
Directions
1. Place cranberries and cranberry juice in a saucepan and heat slightly. Remove from heat, cool to room temperature. Cranberries will absorb all liquid. Hold.
2. In a bowl, whisk together mayonnaise and dressing.
3. Stir in diced chicken, celery and scallions. Toss well to coat. Stir in reserved cranberries and mix well. Cover and refrigerate at least 4 hours before serving.
4. To Serve: For each serving, place ¼ cup spinach onto a split flatbread roll and portion ½ cup salad on top of spinach. Replace top and serve.
Nutrition Information Per Serving: Calories 390, Calories from Fat 100, Saturated Fat 2g, Trans Fat 0g, Total Fat 12g, Cholesterol 20mg, Sodium 800mg*, Total Carbohydrate 57g, Sugars 17g, Dietary Fiber 3g, Protein 13g, Vitamin A 20%, Vitamin C 15%, Calcium 10%, Iron 20%
Recipe courtesy of the Cranberry Marketing Committee, uscranberries.com