A Few Cranberry Summer Salad Combinations to Try
Add the following to your favorite greens for a fresh summer salad worthy of any barbecue or picnic.
· Dried cranberries, garbanzo beans and carrots
· Dried cranberries, orange slices and chopped broccoli
· Dried cranberries, cucumbers and feta cheese
· Dried cranberries, green peppers and black beans
· Dried cranberries, black beans and corn kernels
· Dried cranberries, chopped pears and celery
Ref: Science Bites: News from Cranberry Scientists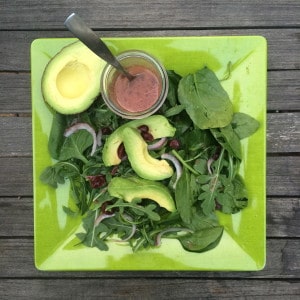 Cranberry Spinach Salad with Avocados
Yield: 4 servings
Dressing Ingredients
4 Tbsp. cranberry juice
2 Tbsp. dried cranberries
2 Tbsp. white wine vinegar or rice vinegar
2 tsp. Dijon mustard
6 Tbsp. canola oil
Salt and pepper, to taste
Salad Ingredients
3 1/3 cups fresh spinach leaves
1 small head of frisée lettuce (or arugula)
1 ripe avocado, peeled, pitted and sliced
1 small red onion, thinly sliced
Directions
Dressing
1. Place cranberry juice and dried cranberries in a small pot and bring to a boil. Remove from heat and allow to cool. Stir in vinegar and Dijon mustard. Gradually whisk in canola oil so the mixture becomes a dressing. Season with salt and pepper, to taste.
Salad
2. Rinse spinach and frisée; spin dry. Remove thick stems and cut larger leaves into bite-size pieces. Add avocado and onion slices.
3. Gently toss salad ingredients with the dressing and serve.
Tip: If preparing in advance, sprinkle avocado slices with lemon juice to prevent discoloration. Mix the salad ingredients with the dressing just before serving to keep the leaves fresh and crisp.
Nutrition Information Per Serving*: Calories 320, Calories from Fat 250, Saturated Fat 2.5g, Trans Fat 0g, Total Fat 29g, Cholesterol 0mg, Sodium 125mg, Total Carbohydrate 18g, Sugars 6g, Dietary Fiber 9g, Protein 3g, Vitamin A 70%, Vitamin C 35%, Calcium 10%, Iron 10%
*Excludes Salt and Pepper
Recipe courtesy of the Cranberry Marketing Committee
Cranberry Institute
P.O. Box 497
Carver, MA 02330
www.cranberryinstitute.org