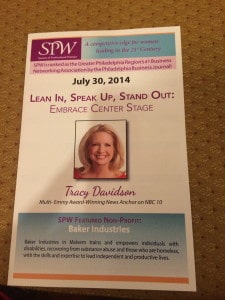 This week  I attended yet another sold-out networking event of the Society of Professional Women. Guest Speaker? Tracy Davidson – multi-Emmy award winning news anchor on NBC 10.
Tracy Shared 3 valuable tips to be able to be a better speaker: When it comes to becoming a better speaker Tracy used the acronym  A.C.E.
1. Get Authentic: In other words, be yourself up at the lectern, avoid distractions which keep you from being you. Get fully focused and in the zone that Tracy called the 2nd circle.  Treat the lecturn like  baby- gently and mindfully- not waving your arms around and leaning on it! Instead lean into your own personality.
2. Be Confident which can become more important than competence. Practice , Practice , Practice  build confidence in the speaking world. Practice with your family, your kids, in the car and in the shower!
3. Express your Passion when you are up on the podium- know how you are connected to your topic. Relay that connection to the audience.  Get rid of any negative talk in your head and know that if you love what you do it will show.