written by Grace Dickinson- Temple University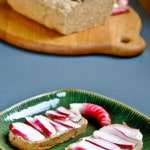 A few posts back when speaking about spring veggies, we mentioned the idea of layering thinly sliced radishes atop brown bread. Here, you'll find an easy recipe to create this idea entirely from scratch.
Brown bread falls under the category of no-yeast, quick-breads, making it one of the few loaves that can be on your plate in less than two hours. Just ten quick kneading actions, and that's all it takes to bring this loaf together. There are absolutely no hours spent waiting for the dough to rise required.
Plus, this particular loaf is filled primarily with a combination of whole wheat and rye flour, both of which are packed with fiber and nutrients.
Top it off with crisp, potassium-filled radishes for a light and refreshing, spring-inspired snack. The colorfully crafted presentation makes for the perfect picnic/party item too!
Brown Bread
(Makes one loaf)
-2 1/2 cups whole-wheat flour
-1 cup white flour
-1/2 cup rye flour
-1 tsp. baking soda
-1/2 tsp. nutmeg
-1/2 tsp. salt
-Zest of 2 lemons
-2 cups of buttermilk
Preheat oven 350F. Combine dry ingredients. Make a well in the center. Add the buttermilk and lemon zest. Mix just until dough is combined.
Turn dough out onto a lightly floured surface. Knead 10 times.
Grease an 8 x 4 inch. loaf pan. Place dough in pan, and bake 40-45 minutes, or until skewer inserted in center comes out entirely clean. Cool on wire wrack.
Top with thinly butter/extra virgin olive oil and thinly sliced radishes. Sprinkle with coarse ground salt and pepp