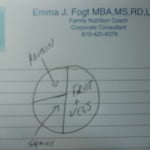 This week is an exciting week for the Registered Dietitian: The Obama administration is unveiling the latest food guide logo. Gone will be that multicolored triangle with the person walking up it's side via steps. That triangle which has been plastered on posters and food boxes for the last 5 years. That infamous and yes complicated "Food Guide System" will be replaced by a…circle. A simple plate.
I thought, finally the government is taking the advice of what dietitians have been saying not to mention teaching for years. I know I have personally drawn hundreds (literally hundreds) of plates on paper for my patients. Drawing a line halfway through the circle and mentioning- "You know how about having half your plate be fruit and veggies" and then drawing another line through the one half of that plate "…and ¼ of your plate should be whole grains and another ¼ protein."
The new logo also promises another small circle to sit near the plate to represent dairy. The new Food Guide logo will support the 2010 USDA Dietary Guidelines which came out in January.
I can't wait to see this new logo on Thursday and I am also curious to see that now our advice is main stream – how we can help families and kids practice it.