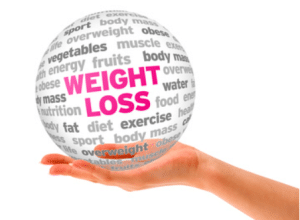 Here are 7 tips from proven sources that show the secrets of weight loss. This data is from the National Registry for Weight Control study which is ongoing, from fellow Registered Dietitians and from a study in the American Journal of Clinical Nutrition. Here is the low-down on what works for weight loss.
EXERCISE EVERY DAY FOR AN HOUR The National Registry for Weight Control shows us that 1 hour of exercise a day helps control weight, especially if it is aerobic. Exercise can help increase metabolism but without diet, exercising alone may not be the sole key to weight loss.
THINK POSITIVE
EAT PROTEIN New data shows that increasing protein in your diet may be helpful to weight loss. Read more here. Source: American Journal of Clinical Nutrition
GET OFF OF THE COUCH Watching less than 10 hours of TV a week means weight control success! Be less sedentary, that means getting up and moving around every 90 minutes is key as well.
MONITOR WEIGHT Checking your weight regularly keeps you in check. You do not have to check it every day, but ideally, once a week to be able to keep on top of your progress.
EAT BREAKFAST It's true, breakfast is the most important meal of the day! Seventy-eight percent of successful dieters eat breakfast every day. Think about yogurt or a high-fiber cereal with berries and milk, an egg wrap or a steamy bowl of oatmeal.
EAT LESS Watching calories also counts. If you exercise and eat more, then weight loss will not occur. So the secret is to exercise and eat a little less. Here a 3 pointers to help you out.

Focus on foods you CAN have, not what you cannot.
Don't forget to be kind to yourself with positive self talk.
Make small changes that work for you over time. Click here for additional weight loss tips from The Washington Post.
Questions about this blog post?
Please feel free to contact me for your Expert Nutritional Personal, Professional, Team Building or Corporate needs.
Proud to offer:  Fuel Up Cooking Events, counseling sessions, consulting contracts, leadership workshops, keynote or wellness event for you, your teams or your company.
I look forward to hearing from you!  ~ Emma