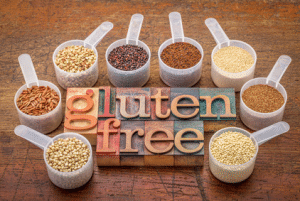 It has become easier and easier to find Gluten-Free (GF) flour these days. Instead of having to mix many different flours together, there are now "all-purpose" gluten-free flours ready to go. My favorite brands are Glutino All-Purpose GF Flour and Trader Joe's All-Purpose GF Flour. I'm sure there are many more brands available, these just happen to be local to my area.
Prepping your pantry for a GF baking bonanza is not so difficult.
Here are the top ingredients you will need to bake away and keep it Gluten Free:
All Purpose Gluten-Free Flour
GF Oat Flour
GF Quick Cooking Oats
Baking Powder
Baking Soda
Corn Starch
Confectionary Sugar
Light Brown Sugar
Granulated White Sugar
Unsweetened Cocoa Powder
Semi Sweet Chocolate Chips
Vanilla extract
Canola Oil
Kosher salt
Non-fat dry milk
Eggs*
Unsalted Butter*
Vegetable Shortening
Milk*
Cinnamon
Nutmeg
(*) note these items are refrigerated.
Other ingredients you may wish to have on hand may include:
Coconut flakes
Raisins
Raw almonds
Recommended GF Baking Cookbook: Gluten Free Classic Snacks by Nicole Hunn (2015).
Questions about this blog post?
Please feel free to contact me for your Expert Nutritional Personal, Professional, Team Building or Corporate needs.
Proud to offer:  Fuel Up Cooking Events, counseling sessions, consulting contracts, leadership workshops, keynote or wellness event for you, your teams or your company.
I look forward to hearing from you!  ~ Emma