After seeing this recipe, I just knew they were perfect for a post workout snack! So I gave them a try and I have to say they were certainly delicious!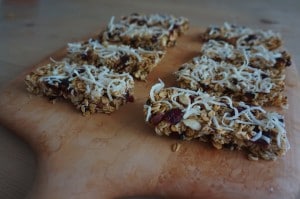 Homemade Granola Bars
Ingredients
2 1/2 cups old fashioned rolled oats
1/2 cup whole natural almonds, coarsely chopped
1/3 cup orange blossom honey (any honey would work if orange blossom isn't available)
1/4 cup unsalted butter
1/4 cup dark brown sugar
1 teaspoon vanilla extract
1 teaspoon chia seeds
1/4 teaspoon kosher salt
1/4 cup dried cranberries, coarsely chopped
1/4 cup dried golden raisins, coarsely chopped
1/4 cup mini chocolate chips, plus extra as needed
Instructions
Heat oven to 350 degrees F. Line bottom of a 9-inch square pan with parchment paper. Then lightly spray the parchment with cooking spray.
Combine the oats and roughly chopped almonds to a small baking sheet then bake 7-10 minutes until lightly toasted. Transfer to a large bowl.
While the oats are toasting, combine the butter, honey, brown sugar, vanilla extract seeds, chia and salt in a small saucepan over medium heat. Cook until butter melts and the sugar completely dissolves, making sure to stir occasionally.
Pour the butter mixture over the toasted oats and almonds and add the cranberries and golden raisins. Mix well. Let cool about 5 minutes then the mini chocolate chips. Stir to combine.
Transfer the oat mixture to prepared pan. Using a rubber spatula firmly press the mixture into the pan until the mixture is in a uniform layer.
Scatter remaining a few extra tablespoons of mini chocolate chips over the granola bars and use the same rubber spatula to gently press them into the granola so they stick. Transfer the entire pan to the refrigerator and chill for 2 hours.
After the granola has chilled completely, gently lift it out of the pan using the parchment paper as handles and cut it into 12 bars. Serve as needed.
If you're waiting to use these, individually wrap them in more parchment paper until ready to eat.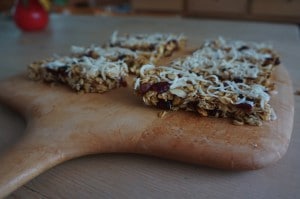 Recipe courtesy of: http://whatsgabycooking.com/homemade-granola-bars/#.U3v8IuZdWJx