Summer Time Caprese Bites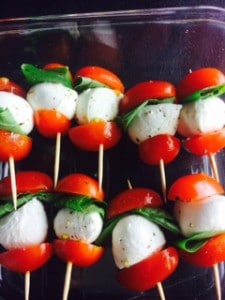 What fun it is to make these super simple appetizers. Why do I love them? They use fresh mozzarella, seasonal sweet tomatoes and garden grown basil- a favorite herb of mine.
I love the fact that basil grows in the back yard- you can even buy it fresh in pots and have it above your kitchen sink on a sill.  I love the smell of this earthy herb and basil goes into almost every salad I make.
To make this recipe you will need:
6 Servings (6×4 toothpicks/per person)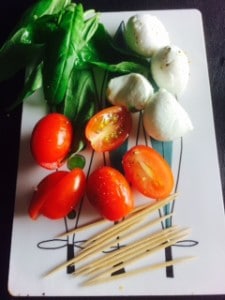 Ingredients
24 toothpicks
24 grape tomatoes
24 mini mozzarella balls
24 basil leaves
Salt and pepper
1 Tbsp balsamic vinegar
Directions
1.   Cut the grape tomatoes in half
2.   Wash and cut off 24 basil leaves from the stems.
3.   Thread ½ of a tomato, a folded basil leaf, a mozzarella ball and the other tomato half onto the toothpick.
4.   Lay assembled Caprese Toothpicks on a platter and sprinkle with salt and pepper to taste.
5.   Sprinkle on some balsamic vinegar (just a little) to add a bit more flavor.
6.   Serve as an appetizer (bite it all off at once!) or side on a summer salad.  Great for entertaining!