What are Plant Based Milks? You have tasted them and more than likely bought them…Almond Milk, Soy Milk or Coconut Milk.  These milks are derived from  plants namely-seeds or nuts or grains and there are more and more plant based milks coming on the market today.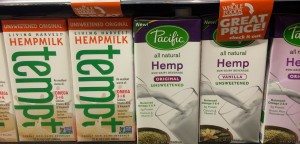 3 Good reasons to try OAT, HEMP or FLAX  Milk!
1. ALLERGY FREE
These three plant based milks (Oat, Flax, Hemp) are Allergy Friendly Alternative because they are DAIRY, NUT AND SOY FREE… (especially useful for people who have soy, casein(milk)  or nut allergies, lactose intolerance and or a gluten allergy).
2. NUTRITION BONUS
All three of these milks are cholesterol free, contain zero saturated fat and trans fat. Are overall low in fat, contain beneficial nutrients particularly EXCELLENT  in calcium, vitamin D and B vitamins.
3. LOW CALORIE
Unsweetened versions of oat, hemp or flax milk  are lowest in calories. Original versions and flavored versions may have brown rice syrup or other natural sugars added- and thus more calories and sugar.
3 Tips to be mindful of when buying Oat,  Hemp or Flax Milks
1. DIFFERENT BENEFITS
Each Plant based milk is different- really need to know what is in the product you are buying and what you want from the nutrition side…There is even differences among brands.
HEMP Milk: Essential Fatty acids, Mild nuttier softer than flax, The flavored and sweetened versions have more calcium…often 500mg in just one cup.
FLAX Milk:  High in Omega Threes Fatty Acids for Heart Health and more.
OAT Milk: Has more fiber and little more protein than Hemp or Flax Milk.  Great for athletes needing some quick carbs.
2. TASTE VARIES
Taste varies from brand to brand and milk type and some varieties take some getting used to! A great way to use these milks is in a shake: simply blend 1C od plant based milk with a small banana and 1/2C strawberries.
3.    ADDED SUGARS BEWARE
Watch for the added sugars and thus extra calories in original, sweetened and flavored varieties. Suddenly a 1 cup serving goes from 50-130 calories.