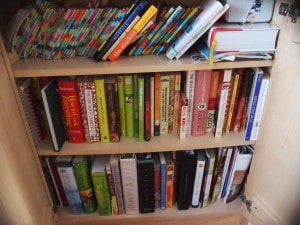 My friends and family know I love to cook. With that said, I confess I am a cook book hoarder- yes I admit I have not one but two cabinets full of cookbooks, not to mention cooking magazines. With recipes available online from epicurious.com, Martha Stewart.com, allrecipes.com and the Food Network and 6 public libraries in my district you wonder why I still buy cook books? With the New Year still in view, decluttering sounds like a plan! Do you recommend I get down to my 10 favorite books? Can I make it 20? I actually know which ones they would be so maybe I should "just do it!"  Bite the bullet and donate the ones I do not use to the library or even sell them back on Amazon.com. Any ideas are welcome Where can I send my cookbooks?
Here's one good thing I did yesterday- I went to the library and for an upcoming Corporate Cooking Event next week I pulled out some cookbooks and brought them home. I discovered a few new books! But I am not buying them…well not yet! O.K. never…
$19.99 The 10 Things You Need to Eat by Dave Lieberman and Anahad O'Connor, Harper Collins Publishers , NY 2010
Dave and Anahad – If you are out there- I really like your cookbook. Why? You speak to the health professional who would recommend your recipes to clients in a heartbeat.  You speak to the client who wants to eat more healthfully, seasonally and locally. Not only do you use fresh, local ingredients you make the recipes sound easy and delicious. By focusing on one food whether lentils or spinach, fish or berries  makes shopping streamlined and gives fun facts and helpful tips about each food highlighted. All you need is a Registered Dietitian to help you analyze your recipes!
Since I will no longer be hoarding cook books in my cabinets – I will list my favorite books on the website under Emma's Top 20 Cookbooks (notice it;,s not 10) and I will post the before and after photographs for evidence that yes I am  decluttering- getting rid of unwanted cook books and coming clean!