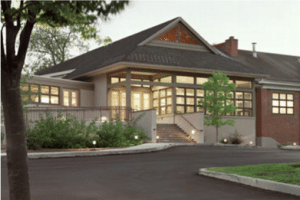 As we celebrate 5 years of Corporate Culinary Team Building at the Wayne Art Center we have realized that 50% of our clients are repeat customers. With that being said, it makes us want to look at the reasons why Corporate Culinary Team Building is a repeat business. Here are just four of many reasons we think Corporate Culinary Team Building is a repeater!
Corporations, when provided with support, want their teams to take the lead.
Culinary team building provides on-demand performance support by having culinary facilitators assist with questions and problems the teams may come upon. This system also allows each team member to choose their own way of approaching their team recipe and its ingredient preparation and execution. When team members need help they ask each other, when teams need help the facilitators are there to guide. The support is there and thus risks can be taken.
Corporations enjoy creative environments to encourage taking risks.
The Wayne Art Center offers a learning environment which is in a neutral location from the usual office and work spaces for teams. Because it is a teaching and art center, it is an inviting open space which fosters curiosity, experimentation, relaxation and fun. It also encourages risk taking without judgement. We have seen altered recipes, souped' up sauces, incredible plating and creative design in our events. And we encourage that.
Corporations know micro-learning is happening, which sticks.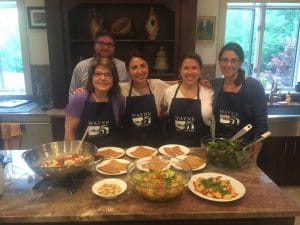 Recipes are easy to prepare, no one needs to be a gourmet chef to be able to join in on the fun. The recipes foster micro-learning, doing a little work for big results. The results, getting to eat together and enjoying fresh amazing food. Team work also fosters micro-learning in the form of building relationships, communications and productivity.
Corporations thrive on customized events.
Our Corporate Culinary Team Building Events are aligned with the company's employees, strategy and culture. If a group of clients want to have specific foods for special diets, our Registered Dietitian can cater to gluten free, vegan, specific allergies or lactose-free menus. We make note of company culture and infuse it into the entire program from décor and program design, to menu selection and team allocation.
---
The Wayne Art Center offers culinary and event planning support, creative environments, micro-learning and customized events which allow companies to enjoy corporate team building again and again. No two events are ever the same. Culinary Team Building is engaging, fun, creative, customized, risk taking and broken down into take home micro learning bites in the form of recipes and memories of creating and eating delicious food together!
Interested in planning your own Corporate Culinary Team Building event?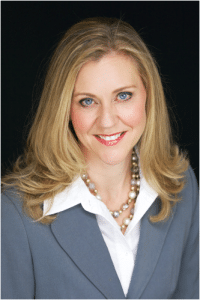 Please feel free to contact me for your Expert Nutritional Personal, Professional, Team Building or Corporate needs.
Proud to offer: Fuel Up Cooking Events, counseling sessions, consulting contracts, leadership workshops, keynote or wellness event for you, your teams or your company.
I look forward to hearing from you! ~ Emma