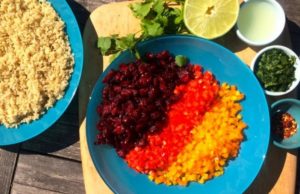 Try a delicious and simple Cranberry & Cilantro Quinoa Salad (recipe below) a refreshing spring salad
Yield: 8 servings
Ingredients
2 cups water
Pinch of salt
1 cup quinoa, rinsed
1 cup dried cranberries
½ cup minced carrots
½ cup chopped red bell pepper
½ cup chopped yellow bell pepper
3 Tbsp. finely chopped red onion
3 Tbsp. minced fresh cilantro
3 Tbsp. fresh lime juice
1 Tbsp. vegetable oil
¼ tsp. salt
Pinch ground red pepper
Directions
1. In a small sauce pan, bring water and pinch of salt to a boil over high heat; stir in quinoa, reduce heat and bring to a low simmer. Cover pot and cook until all liquid is absorbed (about 13 minutes).
2. Remove from heat and transfer to a medium bowl. Cool to room temperature. Cover and refrigerate until ready to use.
3. To the bowl of quinoa, stir in cranberries, carrots, red and yellow peppers, red onion and cilantro until mixed.
4. In a small bowl, mix together lime juice, oil, salt and ground red pepper and pour over quinoa-cranberry mixture; toss to coat evenly. Cover and refrigerate at least 2 hours before serving. Does not have to be served cold.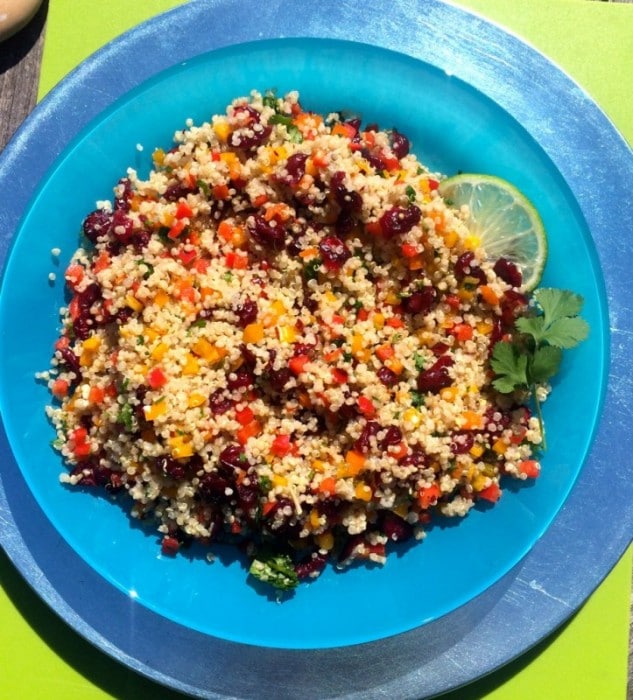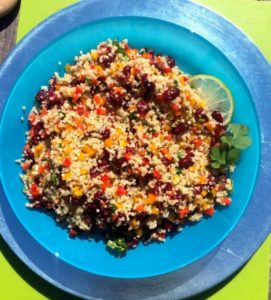 Nutrition Information Per Serving: Calories 150, Calories from Fat 30, Saturated Fat 0g, Trans Fat 0g, Total Fat 3.5g, Cholesterol 0mg, Sodium 115mg, Total Carbohydrate 29g, Sugars 11g, Dietary Fiber 3g, Protein 3g, Vitamin A 40%, Vitamin C 45%, Calcium 2%, Iron 6%
Recipe courtesy of the Cranberry Marketing Committee, uscranberries.com
Cranberries Go Global
Swap out a few basic ingredients in the above Cranberry & Cilantro Quinoa Salad recipe and see how cranberries can fit into any international cuisine.
· Asian: Swap out red onion, cilantro and lime juice, for scallions, ginger and soy sauce.
· Greek: Swap out carrots, cilantro and lime juice for tomatoes, olives and chickpeas. Make it even better—add feta!
· Indian: Swap out carrots, peppers, cilantro and lime juice, for winter squash, sweet potatoes, pecans and curry paste. Add an extra kick with cayenne pepper!
· American: Swap out peppers, cilantro and lime juice, for celery, turkey breast and thyme. Who knows? Quinoa could become your new favorite Thanksgiving leftovers recipe.
Cranberry Institute
P.O. Box 497
Carver, MA 02330
www.cranberryinstitute.org