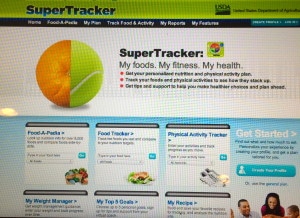 This month we celebrate Workplace Wellness Week. Just in time, the US Department of Agriculture (USDA) Center for Nutrition Policy and Promotion (CNPP) has created a new worksite wellness toolkit called the SuperTracker.
What is the SuperTracker?
This is an online toolkit (both available on the phone or tablet) which tracks recipes, calorie intake, activity and weight management. The App's content is based on the USDA's Dietary Guideline's for Americans and Physical Activity Guidelines for Americans.
The Super Tracker toolkit includes an 8 week promotion plan to have a structured wellness goals in place.
5 Features of the SuperTracker App
Food-A-Pedia: Look up nutrition information for over 8000 foods and compare foods side-by-side.
Food Tracker: Track food intake
Physical Activity Tracker: Record number of minutes each week of exercsie
My weight manager: decide to maintain or lose weight- enter your weight and track your progress
My Top 5 Goals: Create 5 goals of wellness.
My Recipes: Search for healthy recipes in resources recipe books and find out nutrition data for them.
Wellness Goals
After you put in your data (age, height ,activity and register) you can set a maximum of 5 wellness goals. You can also opt for virtual coaching reminders daily, weekly or monthly. This is what I chose:
Weight control – maintain a healthy weight
food groups- I chose to increase my fruit servings to 2C a day
activity- I chose to get 300 minutes a week
I need to stick to about 2000 calories a day
Meet a target for calcium with 3 servings of dairy a day
Comments
Personally, having this App on my phone will help me keep track of exercise , my fruit servings and calcium requirements. Not sure if I have time to plug in everything I eat though- but I do like the journal feature to be able to record food intake quickly and assess a day's intake overall.
This App may be an easy way to promote health and wellness in the workplace. Workplace wellness has shown to decrease employee health care costs, reduce absenteeism, increase productivity and overall moral.Keeping the objectives simple, making the wellness goals personal and manageable means success for companies and their employees.
Reference:
Leone, A., Celebrate National Workplace Wellness Week Using the Worksite Wellness Toolkit , Journal of the Academy of Nutrition and Dietetics. April, 2015, p.497