-By Grace Dickinson, Temple University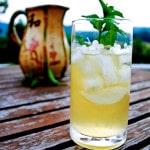 June is National Iced Tea Month, and for good reason too. While we've already experienced a handful of hot 90-degree days here on the east coast, you can be sure there's more to come as the current month proceeds.
There's nothing more refreshing on one of those scorchers than a tall glass of iced tea. However, rather than reaching for one of those sugar-laden store bought teas to cool yourself down and celebrate National Iced Tea month, why not make a superior version of your own.
The following recipe utilizes just two ingredients: Mint and water. The results are surprisingly delicious and incredibly refreshing. No sweetener is needed, but if you're accustomed to a little sugar in your tea, feel free to add in some honey.
The tea is naturally caffeine free, so it's suitable for the whole family. However, you may steep the leaves in green tea for a bit of a zing, if desired, but the strong minty flavor can certainly stand on its own, just don't skimp on the mint.
Simply Mint Tea
-40-50 12-inch mint sprigs, about 2 cups of leaves, tightly packed
-Water, 7 cups
Strip mint leaves off stems. Wash leaves. In a 2 quart kettle, add 6 cups of water.
Place kettle on high heat and bring water to boil. Turn off heat and add mint leaves, using a spoon to submerge leaves. (Add honey to taste, if using.)
Place lid back on kettle, and let steep at least 30 minutes, or up to 2 hours.
Pour tea through a strainer into a pitcher. Serve in a glass over ice. Relax and enjoy.