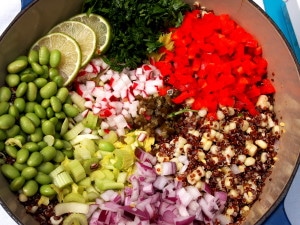 Headed to a picnic or outdoor grill? Here is an easy and portable recipe which is not only nutritious and colorful but gets rave reviews. Red Quinoa Summer Salad is a blend of crunchy fresh vegetables and chewy quinoa. Add fresh and zesty lime dressing and jalapenos for a slight kick in flavor. Red quinoa contains a high amount of protein and all 22 essential amino acids and this power house grain is now available in most supermarkets. If you cannot find red quinoa- no big deal look for white which may be easier to find and just as nutritious.
Quinoa is so easy to make as it can be made a day ahead and takes no time at all. For six servings place 3 cups of quinoa into a pan with 6 cups of water . Bring the water and quinoa to a boil. Once the quinoa boils turn down the heat to let it simmer for 10 more minutes. After this, turn off the stove and let the quinoa absorb all it's water for another 5 minutes . Once cooked the quinoa should be chewy- not mushy and you can fluff it with a fork , cool and mix in the additions.
Additions can be seasonal and fresh from the farmers market. I used 4 ears of fresh corn, 1 red pepper, 8 radishes, 2 halapinos (from a jar), a small bunch of flat leaf parsley,1 small red onion, 3 stalks of celery and 1.5C of edamame (defrosted from freezer). Additions are endless by the way..tomato, cilantro, feta, snap peas, peas, olives…anything goes.
We all know that getting the ingredients is one thing but actually prepping them is a whole other story. What made this recipe go quickly was the addition of The Vegetable Chop and Measure. Without sounding like an info-mercial- this veggie chopper made getting the onion, pepper, jalapeno's, and radishes into perfectly chopped little cubes effortless- and so professional looking. Pop- close the lid on those veggies and voila- what would have taken 20 minutes to chop let alone get into perfectly cubed pieces took less than 5 minutes.
Williams- Sonoma has an instructional video on The Vegetable Chop and Measure– a new groovy gadget must have.
http://www.williams-sonoma.com/products/vegetable-chop-and-measure/?pkey=cmandolines-slicers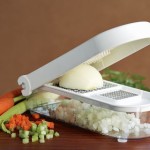 * Featured Groovin Gadget: The Vegetable Chop & Measure ($18.99 at Williams-Sonoma)
RECIPE:
Super Powerful Red Quinoa Summer Salad:
Serves 6-8 people. Hot, warm or cold.
Lightly Toss to Combine the following Ingredients
3 cups red or white quinoa, cooked according to package directions
4 cooked corn kernels cut from the cobb (about 2 cups).
* 2 red bell peppers, stemmed, seeded, and- chopped
* 1 small red onion- chopped
1 small bunch of parsley- finely chopped with a knife ( approx. 1/2C)
1C edamame (defrosted)
* 2 jalapeno peppers (jarred optional)- chopped
3 stalks of celery sliced
* 6 red radishes- chopped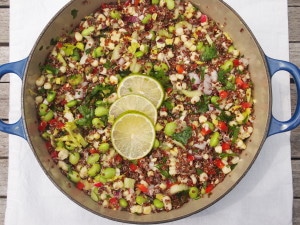 And Add the Zesty Lime Dressing…
Whisk together:
1/2 C Extra Virgin Olive Oil
2 Cloves minced fresh garlic
3 Tbsp Lime Juice
Salt and Pepper to taste.