Vegetarian recipes for people on the go created and tested by Emma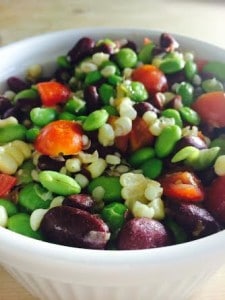 RECIPE 1 (April 2014)
Bean Me Up:
Beans one of the newest Superfoods which are high in fiber (soluble and insoluble) and protein.  Just ½ cup of beans has the same grams of protein as an ounce of meat. The soluble fiber in beans can help lower cholesterol and keep blood sugars even longer for weight control.
DUMP & STIR TRI-COLOR SPRING SALAD (edamame, kidney beans, corn with tomato)
Please "dump" the following 3 ingredients into a big mixing bowl and mix together gently.
1.5 C cooked edamame beans (you can buy them frozen and boil or microwave them)
1.5 C cooked yellow corn kernals- (I bought a frozen bag and just cooked them in boiling water for a few minutes- or even better use fresh corn taken from the cob for more fresh seasonal flavor)
1 (15 oz) can kidney beans- rinsed
Now make the dressing- this bring incredible flavor and tastes even better three days later.
3 tomatoes, seeded and finely diced/chopped
3 Tbsp minced red onion
1.5 tsp ground cumin
4 Tbsp fresh lime juice
3 Tbsp olive oil
Salt
Storage Tips this dump and Stir CORN-BEAN SALAD can keep in your fridge for up to 5 days- With each passing day it marinates and tastes even better. Have it for dinner with Salmon or chicken for lunch with greens.