By: Kathleen Mathis, Dietetic Intern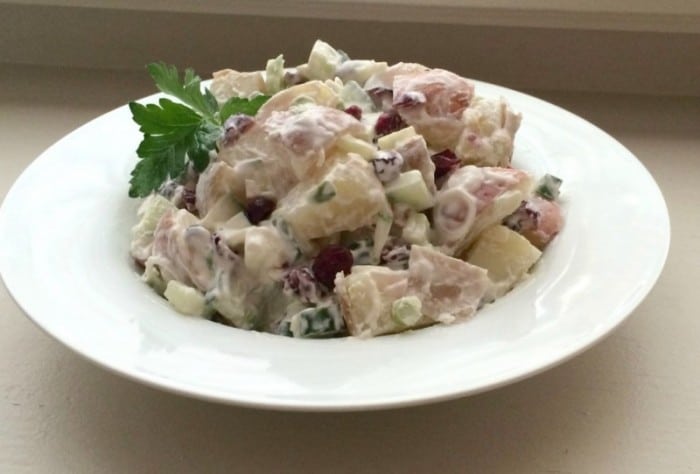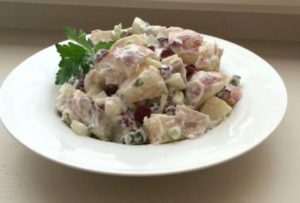 Looking for a new idea for your summer picnic or barbeque? Try this light, refreshing potato salad with crunchy cucumbers and tangy yogurt. The vibrant, tart cranberries really make it pop!
Yield: 6 servings
 Ingredients
8 oz. small red or yellow-skinned potatoes
½ cup nonfat plain Greek-style yogurt
2 Tbsp. reduced-fat mayonnaise
1 Tbsp. white balsamic or cider vinegar
½ tsp. hot red pepper sauce
1/3 cup dried cranberries
1 cup diced seedless cucumber
¼ cup thinly sliced scallions
Directions
Wash potatoes and boil with skin on for 15-20 minutes or until almost tender. Remove from heat and drain. Cool. Cut into cubes and set aside.
In a bowl, whisk together yogurt, mayonnaise, vinegar and pepper sauce. Stir in cranberries and let stand 20 minutes to soften cranberries slightly.
Stir potatoes, cucumber and scallions into yogurt-cranberry mixture and toss to coat. Adjust seasoning as needed. Cover and refrigerate at least 1 hour before serving.
Mix it up! Switch out cucumber for diced apple or pear, or try it garnished with chopped, toasted pecans or walnuts.
Nutrition Information Per Serving: Calories 70, Calories from Fat 10, Saturated Fat 0g, Trans Fat 0g, Total Fat 1g, Cholesterol 0mg, Sodium 70mg, Total Carbohydrate 14g, Sugars 6g, Dietary Fiber 1g, Protein 3g, Vitamin A 2%, Vitamin C 8%, Calcium 4%, Iron 2%
Recipe courtesy of The Cranberry Institute http://www.cranberryinstitute.org/