by Grace Dickinson, Temple University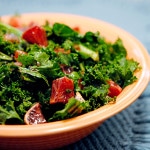 May is one confusing month. It's often cold when you want it to feel like spring. Or the air reflects a sultry summer day when you just wish it to be warm and breezy. May makes you second-guess whether to choose iced coffee or hot tea, sandals or sneakers.
Sticking with its contradictory nature, the temperamental month has also been officially named both National Burger Month and National Salad Month. However, there's really no guessing involved with this contradiction. It's easy to choose which side to celebrate.
National Salad Month is certainly the way to go, giving you the perfect excuse to create more healthy and light meals for your lunch. Plus, salads can often be thrown together rather quickly, as in the night before or morning of work, or as a last minute side dish for a more intensive meal.
Salads are also great because once you choose your base (lettuce, arugula, rice, etc.), you can pretty much pile anything else you want on top. Leftover chicken in the fridge? Throw it on. Strawberries in season? Add them too. You get the picture. You can easily turn a salad into a complete meal, full of protein and nutrients, simply by adding any variation of ingredients you have on-hand. Add some low-fat dressing, and you have yourself a tasty and nutritious meal.
A true salad is more than just a bowl of leaves. That bowl of leaves you begin with leaves endless room for creativity. Check out the following recipes to get you started, all of which contain at least one "superfood" known for their extra healthy benefits.
This salad uses kale, known for being an excellent non-dairy source of calcium as well as a vitamin A and fiber-filled veggie. Keeping the kale raw allows the leaves to maintain their fullest nutrient levels since none of the vitamins will be leached out through cooking.
Blood Orange and Kale Salad
(Makes 2 large salads or 3-4 side salads)
-1/2 large bunch kale, stems removed, sliced into ribbons (about 5 cups)
-1 blood orange, peeled, segments sliced into thirds
-1 shallot, minced
-2 Tbsp. balsamic vinegar
-2 Tbsp. extra virgin olive oil
-1/2 tsp. Sriracha
-1/2 tsp. salt
Toss kale and blood oranges in a large bowl. Whisk sriracha, salt, and vinegar until combined.
Place oil in a skillet over high heat. Add shallots and saute until transluscent, 2-3 minutes.
Quickly whisk oil into vinegar mixture, and pour over kale. Toss until thoroughly combined. Serve.
The following salad pairs antioxidant-powerhouse-pomegranate seeds with peppery arugula to create a full-flavored salad. It also calls on pumpkin seeds, which are high in monounsaturated fats (the "good" kind), vitamin E (protects the body's cells from free radicals), and an array of minerals, such as magnesium, which helps the body to absorb calcium. They also add a punch of protein and nice crunch paired with the creamy blue cheese in this recipe.
Arugula Salad with Pomegranate and Blue Cheese
(Per one large salad)
For the dressing:
-1/4 cup extra virgin olive oil
-2 Tbsp. plus 1 tsp. apple cider vinegar
-1/2 tsp. agave
-Rounded 1/4 tsp. thyme
-Rounded 1/4 tsp. salt
-Rounded 1/8 tsp. ground black pepper
Whisk oil with vinegar until combined. Add remaining ingredients, whisking until dressing is creamy and light.
For the salad:
-2 cups arugula
-1/4 cup pomegranate seeds
-1-2 wedges of Laughing Cow Light Blue Cheese (You can substitute any variation of your favorite blue cheese, but Laughing Cow Light adds a lighter, extra creamy touch)
-2 Tbsp. roasted pumpkin seeds
-1 1/2 Tbsp. vinaigrette (see above)
Toss arugula with vinaigrette. Top with pomegranate, blue cheese, and pumpkin seeds. Serve.