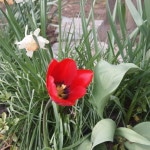 Families who exercise together not only have more fun but parents become positive exercise role models to their kids. One of the best ways and most simple exercises for all to get everyone involved in is …walking.
Yes, but walking is boring correct? Children lag behind and are not wanting to even participate. Try these strategies to get more Spring into those kid's Steps.
Catch a 5K
I have discovered some great Saturday Morning Walking activities which also help charities at the same time. A double whammy- giving back to the community while also supporting my family's health and connectivity. For fun a family can paint their own colorful t-shirts.
In Philadelphia we have quite a few, over 40 in fact- now through November. From The Susan G. Komen Race for the Cure and Livestrong Challenge to lesser known 5K's- Race for Jobs and The Lupus Loop. All of these Walks/Runs are listed on the Fun on Foot Website: www.funonfoot.com
Pace with a Pedometer
Having the family keep track of distance is a motivating and fun way to work as a team. A simple tracking device, a pedometer- will count every step you take. For the range of $25-$40 that is not too much of an investment especially as you will be walking more charities this year! I recommend Consumer Reports # 1 choice the Omron Pocket Pedometer for $34.99. It comes in black, pink, purple or yellow. The website is omronwebstore.com/products/pedometers. One mile is measured in about 2000-2500 steps depending on your stride. Each family member can clip a pedometer onto their belt or waistband and off they go. The goal is to record the number of steps walked. Young children especially like this gadget. Adults- think about getting 10,000 steps in a day for health, children may naturally get more.
Nurture Nature
Follow a river, trek a trail, climb a mountain, visit a park, walk through a college campus. Have young children run and find natural items as part of a scavenger hunt. Make sure you give them a bag (which they can decorate before hand if you are feeling crafty ) to collect their treasures. Bring home dried twigs and berries to make a natural centerpiece. I have collected branches from the ground and hung Easter Eggs from them. Collect some rocks to paint later. Let them see what treasures nature provides.
Finally walking helps you and your partner have time to catch up, to discuss, to de-stress and build on your own and the family's relationships.