written by Grace Dickinson, Temple University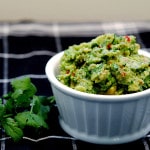 Whip up some satisfying, heart-healthy guacamole and let your taste buds celebrate this Mexican fiesta.
Pull out your sombreros, bust out those maracas, and put on your dancing shoes. This next Thursday is Cinco De Mayo!
Before we start celebrating, let's first get acquainted with a little history explaining what this Mexican-based holiday is all about. Cinco De Mayo (which translates into "the 5th of May") celebrates the victory of the Mexican army over the French army during the Battle of Puebla that took place all the way back on May 5, 1862. Although the French army eventually re-invaded Mexico and succeeded in taking over for a period of time beginning the following year, Cinco De Mayo remains a regionally celebrated holiday in Mexico.
Today, the holiday has been carried over into the U.S., drawing large crowds to parades and other festivities going on in numerous cities throughout the nation. We use the day to celebrate and honor Mexican music, culture, drinks, and of course, food.
Cinco De Mayo provides the perfect excuse to put on some fiesta music, do a little cha cha chaing, and work up an appetite for some hearty, healthy Mexican eats.
Consider whipping up some homemade chips and dip to chow down on during this year's Cinco De Mayo.
Create your own homemade guacamole, which is sure to beat anything you can buy already made at the store. The avocados that create the buttery spread are filled with monounsaturated fats. Rest assure, these are the kind of fats that are actually good for your heart and can increase your HDL or "good" cholesterol. Plus, hass avocados, the variety typically sold in grocery stores, contain 20 vitamins and minerals, including vitamins B, E and K. They also have 60% more potassium than bananas and are significantly high in fiber. Not too shabby, especially given how creamy and rich the fruit tastes.
Follow the recipe below to create your own foolproof guacamole. If you're not a fan of spicy food, simply omit the chili garlic sauce.
Grab some baked corn chips, salsa (and a salsa partner) and join in the celebration!
Spicy Cilantro Guacamole
-2 small-medium avocados, peeled and pit removed
-1/2 lemon, squeezed
-1 1/2-2 tsp. chili garlic sauce, optional
-2-3 Tbsp. cilantro, minced
-1/2 tsp. salt
Place avocado in a bowl. Add remaining ingredients. Grab a fork and a pairing knife, and start running the knife through the avocado to start breaking it into pieces. Continue slicing the avocado in the bowl with the knife, using the fork for leverage. Continue this motion until all ingredients are combined with the avocado and guacamole reaches desired consistency. If you prefer an extra creamy guacamole, use the fork to continue mashing out the chunks. Pair with chips, tacos, or any other bean/grain dish.