Last week in Costco I spied a large 3 pound bag of Chia Seeds. Usually I would just pass this by, but recently learning more about gut health I heard chia seeds are "amazing" and "you have to try them". The next morning, I sprinkled 1 Tbsp (15 gm) of these seeds onto my bowl of oatmeal and berries which prompted me to find out more about this mini-mega seed.
CHIA HISTORY
Chia seeds are grown in Central and South America and now boast over 1 billion dollars in business. Not new to the world, this tiny seed goes as far back to the Aztec time where it was used in cooking and in making oils. Today chia seeds are sold in bags and easily available online and in grocery stores. Unlike flax seeds this seed does not need to be ground up to get it's nutritional benefit.
NUTRITION PUNCH
Chia seeds provide at least 15% of the recommended daily value for calcium, omega 3 (ALA and EPA) , iron and are high in dietary fiber (10 gm in 3 Tbsp )- seriously that is almost half of a woman's recommended dietary intake of fiber for the day! Many studies have looked at Chia seeds for an array of health benefits from weight loss, diabetes, metabolic syndrome, skin and heart disease. Unfortunately, many of these studies are not perfected as they are short in duration and small in sample size. Chia seeds also contain antioxidants in the form of flavenols called quercetin and kaempferol. Just 1 Tbsp of dry seeds gives the recommended ALA – alpha linoleic acid, an omega three- for women and over 80% in men. Enough studies do show that ALA is beneficial to arteriosclerosis, hypertension and heart disease.
SOAKING CHIA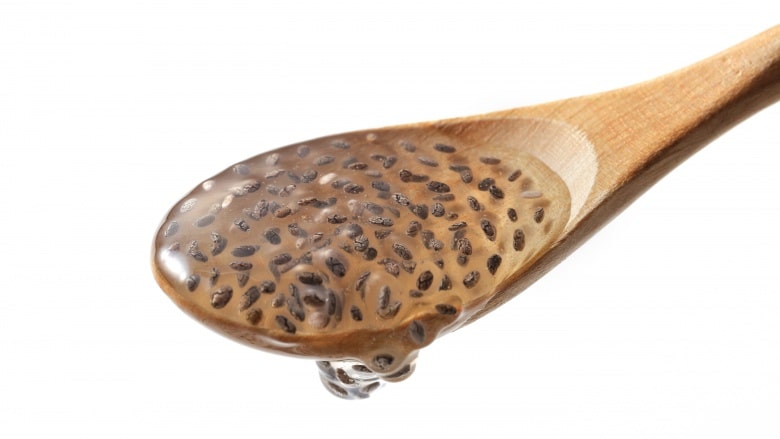 Here's the deal with soaking chia seeds …they can hold up to 10 x their dry weight in liquid. This is because a gelatinous mucilage capsule forms around the seed which is actually a gel forming polysaccharide. The best way to consume chia seeds is to soak them in water and then stir into foods or beverages or soak over-night in a liquid based recipe.
CHIA RECIPES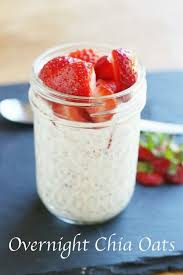 Chia seeds can be added to recipes in so many ways from breads and crackers, to dressing and salads. From shakes, beverages and smoothies to puddings and jams. WARNING: Do not consume chia seeds dry if you have trouble swallowing (dysphagia).
Chia pudding is easy to make using ¼ C chia seeds and 1C of liquid- This liquid could be a milk base, plant based milk like almond or oat milk, coconut milk or juice. Simply let the seeds soak in the liquid for 15 minutes. Add a sweetener like honey or maple syrup. Chef Abby Gelman, MS, RDN, Chef and Nutritionist from provides a great Overnight Oats recipe here:
Chef Abby Gelman's Overnight Oats (and Chia)
Yield: 2 servings Ingredients: • 3/4 cup rolled oats • 1 banana, mashed • 1 tablespoon chia seeds • 1/2 teaspoon cinnamon • 2 tablespoon unsweetened coconut flakes • 2 tablespoon mini chocolate chips • 1 1/2 cups milk (or non-dairy milk of choice) • 2 teaspoons maple syrup
Directions: 1. Place all ingredients together in a container and mix well. Cover and place in refrigerator overnight. 2. Stir and eat.
Equipment: • Bowls • Wooden spoon • Serving bowl • Mason jar (if available)