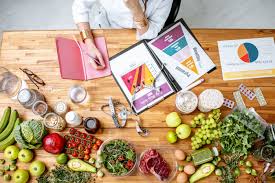 RDNs Have a Rigorous Training
RDNs provide Medical Nutrition Therapy- they are medically trained with 4 years of pre-medical sciences from an accredited university, a 1200 hour supervised internship in hospitals and then an exam. The schooling of an RDN often requires a Master's degree- the whole training is a minimum of 5 years and up to 6 years. RDNs complete continuing professional educational requirements to maintain registration and comply w a standard code of ethics.
RDNs are part of the Medical Team
RDNs provide Medical Nutrition Therapy: a nutrition assessment, determine the nutrition diagnosis, determine and implement a nutrition intervention, and then in subsequent visits monitor and evaluate the patient's progress. Nutrition education for disease prevention and nutrition counseling for chronic conditions provided over a series of visits are essential components of a comprehensive health care program. They work with a medical team: your physician, your mental health experts.
RDNs provide Medical Nutrition Therapy
The Institute of Medicine identifies registered dietitian nutritionists as qualified professionals for nutrition therapy. According to IOM, the registered dietitian nutritionist is currently the single identifiable group of health-care professionals with standardized education, clinical training, continuing education and national credentialing requirements necessary to be directly reimbursed as a provider of nutrition therapy.
About half of all RDNs work in clinical settings, private practice or health-care facilities. Many work in community and public health settings, academia and research, business, journalism, sports nutrition and wellness programs.