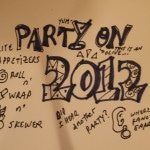 So the holiday parties are over and it's 2012! A New Year a New You right? If part of your plans are to keep on partying but stay within your "new you" health goals- let's keep it simple and light.
Here are four secrets to simple, healthy and successful appetizers for your next party.
If you are hosting a party:
1. Have a few starring appetizer items and make the rest super simple.
2. Making the appetizers ahead of time is what makes the day of the party fun- even having pre-sliced or chopped ingredients ready to assemble is key to feeling less stressed and overwhelmed the day of the party.
3. Mix and match color combinations, flavors, textures and the temperatures of appetizers. Vary these up. Have only 1 or 2 warm appetizers and make the rest cold so you are not hanging around the stove all evening.
4. Plan how guests will eat the appetizers and be prepared. Do you need plates and forks? Small shot glasses? Chinese spoons? Toothpicks and napkins? Presenting the appetizer is just as important. Decorate appetizer plates with curly parsley, fresh herbs, edible flowers or doilies.
If you would like to bring an appetizer
Here are 12 simple appetizer combination ideas –my favorite- assemble and serve…
Smoked salmon with dill mustard wrapped around cucumber and sealed with a toothpick
Smoked Salmon on top of cream cheese and crackers sprinkled with capers
Cooked Shrimp threaded on a mini skewer with a spicy mayo dip
Turkey slices wrapped around asparagus
Ham spread with honey mustard and wrapped around a bread stick
Beef rolled around scallion and horseradish cream
Half a fresh fig holding a dollop of goat cheese glazed with honey
A cube of melon, threaded with a mint leaf, a bit of proscuitto and splashed with white balsamic vinegar
A beautiful platter of hard and soft cheeses prepared with crackers and grapes
Squares of Tomato pie
Mini mozzarella balls seasoned and threaded on a toothpick with a ½ baby tomato and basil
Stuffed celery bites with blue cheese spread sprinkled with chopped walnuts
A plate of olives, red stuffed peppers, mozzarella and grape leaves in rows.
CHEERS, To Your Health!