Elderberry Syrup – Nothing to Sneeze at when it Comes to Cold and Flu Symptoms.
I recently came down with a nasty cold and a Dietitian colleague of mine recommended I get some Elderberry Syrup. She is an Integrative and Functional Medicine Practitioner and I decided to look into it.
What Is Elderberry?
Native of Europe the Elderberry is a flowering plant of the Sambucus Tree. It's flowers, leaves, bark, and berries are poisonous if not cooked properly. The poison being glycocyanide in the plant which in nature helps keep predators away. I do not advise making your own elderberry products unless you know what you are doing! Consequently, for this segment, we are looking at commercially available elderberry products which through processing do not contain cyanide.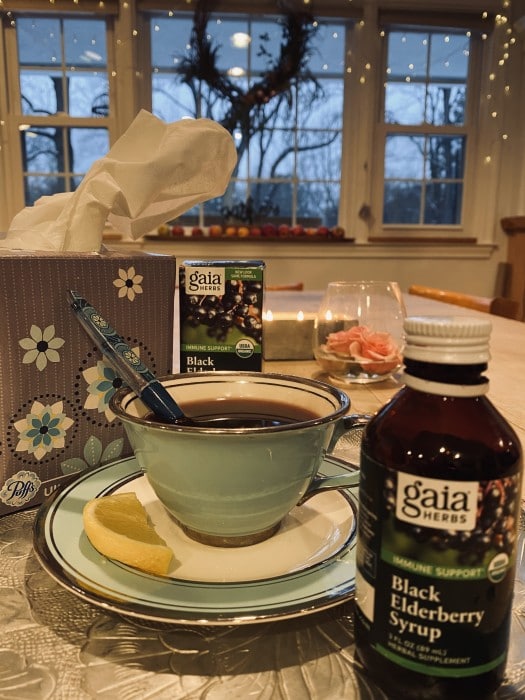 Elderberry Products
Such products on the market you will see are:
Organic Elderberry Syrup is cooked elderberries in water and sugar to make a syrup consistency.
Organic Elderberry Tea also made from elderberries
Elderberry Capsules, Gummies or Lozenges
Elderberry Drops
https://top10supps.com/best-elderberry-supplements/
Elderberry Research
Recent studies have shown that consuming elderberry syrup can help with cold and flu symptoms- participants in a few studies have recovered from colds more quickly compared to those not consuming the elderberry syrup while having the same cold. Trials are lacking for elderberry supplementation, but there was a clinical study done where the adult patients were given 15 ml of elderberry syrup four times a day for five days. The patients who were given elderberry extract vs the placebo recovered 4 days faster on average. (https://journals.sagepub.com/doi/10.1177/147323000403200205). These studies have been in animals and also very small human groups- so the data is still out there to gather on efficacy.
Food as Medicine
What these little berries have however are a potent source of cancer and immune fighting anti-oxidants and phenolic acids which can decrease oxidative stress. These agents may be reduced in heating or juicing- but they are there.
Flavenols in this berry- include quercitin, kaempfenol, and isorhamenttin – found in larger concentrations in the elderberry flower.
Anthocyanins are also present as strong antioxidants and anti-inflammatory agents.
The Nutrition RX:
Follow the recommendations on the package directions for dosing of Elderberry when you buy commercial products.
Making your own elderberry products is not recommended- nor would I recommend buying someone else's potions if they are not reliable sources.
Allergies: elderberry is a part of the honeysuckle family, which is a somewhat common allergy.
Check with Consumer Labs, Center for the Science and Public Interest as Elderberry supplements are NOT regulated by the FDA and content of product varies.
These products are not intended to diagnose, treat, cure, or prevent any disease.
To prevent colds and flus- I'm trying to remember to wash my hands frequently, stay home when sick and did get the flu shot. With that said, I am enjoying a tsp of Gaia Elderberry syrup in hot water for tea =- it tastes delicious- fruity and zesty. Has it helped stave off my colds? Not sure- but I'm hoping it gives me some more antioxidants- Vitamin C, Zinc and immune fighting flavonoids which I could use more of this cold winter season!
REFERENCES
Zakay-Rones, Z., Varsano, N., Zlotnik, M., Manor, O., Regev, L., Schlesinger, M., & Mumcuoglu, M. (1995). Inhibition of several strains of influenza virus in vitro and reduction of symptoms by an elderberry extract (Sambucus nigra L.) during an outbreak of influenza B Panama. The Journal of Alternative and Complementary Medicine, 1(4), 361-369. doi: 10.1089/acm.1995.1.361
Zakay-Rones, Z., Thom, E., Wollan, T., & Wadstein, J. (2004). Randomized study of the efficacy and safety of oral elderberry extract in the treatment of influenza A and B virus infections. Journal of International Medical Research, 32(2), 132-140.
Tiralongo, E., Wee, S. S., & Lea, R. A. (2016). Elderberry supplementation reduces cold duration and symptoms in air-travelers: A randomized, double-blind placebo-controlled clinical trial. Nutrients, 8(4), 182. doi: doi.org/10.3390/nu8040182
Kong, F. K. (2009). Pilot clinical study on a proprietary elderberry extract: efficacy in addressing influenza symptoms. Online Journal of Pharmacology and Pharmacokinetics, 5, 32-43.
Hawkins, J., Baker, C., Cherry, L., & Dunne, E. (2019). Black elderberry (Sambucus nigra) supplementation effectively treats upper respiratory symptoms: A meta-analysis of randomized, controlled clinical trials. Complementary therapies in medicine, 42, 361-365.