When it comes to foods that just "hit the spot" most of us reach for the pasta! Who wouldn't? The comforting carbs, the savory sauces and the gooey cheese? Well, that right there sounds like heaven. After coming across a Southern Food recipe for Baked Spaghetti Squash, I decided twirl my fork around a different kind of "spaghetti " with a little help.
Me and my good friend Marc decided to chef it up using only the freshest ingredients (obviously!) and got to cooking!
Here is what you will need:
-1 medium spaghetti squash.
-Olive Oil
-3 tablespoons of butter
-2 medium tomatoes, cored, seeds removed, diced
-2 tablespoons of freshly chopped basil
-1 small clove garlic, crushed and finely minced
-1/2 cup of grated Parmesan cheese, plus more for serving
-1/8 teaspoon of ground black pepper
-3/4 teaspoon of salt, or to taste
Have what you need? Great! Lets get to cooking!
–    First, line a baking pan with foil and oil lightly with olive oil. Preheat oven to 375 degrees.
–   Now, cut the squash in half lengthwise, be sure to remove any seeds and soft fibers. Now place the squash cut side down      in the baking pan, cover with foil and bake for 1 hour. Turnover and bake for another 20 minutes or until tender.
–   Scoop the squash out of the peel and toss into large bowl with butter, diced tomato, basil, garlic, Parmesan cheese, salt          and pepper. Serve hot! (Add some delicious crusty bread if you prefer!)
Check out some of the pictures of our Baked Spaghetti Squash! It is a very healthy and fresh dish. Just 1 Cup of spaghetti squash has 42 calories and almost 2 grams of fiber. Guilt-Free. You can get the recipe at About.com under Southern Food! The link is below.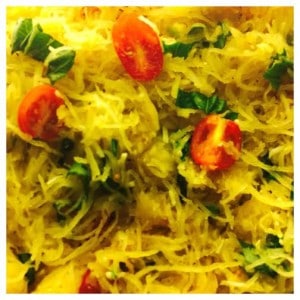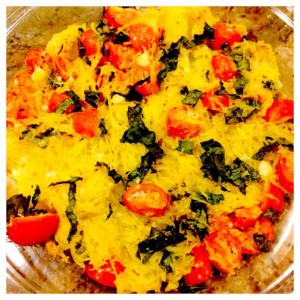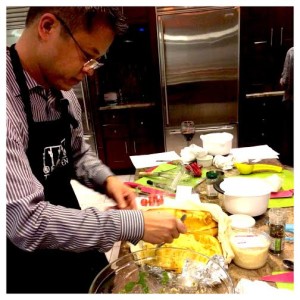 We used this recipe! : http://southernfood.about.com/od/wintersquashrecipes/r/Spaghetti-Squash-Recipe.htm
If you change it up a bit! Tweet me a picture @emmafogt! I love getting new cooking ideas!