By Emma Fogt MBA, MS, RDN, LDN, FAND
MY JOURNEY
My journey with Nutrition Entrepreneur's started way back in 1999 when my young family and I  moved to Pennsylvania from Boston and I was working on my MBA. I remember clearly thinking "What now? Do I go into business or continue with nutrition?"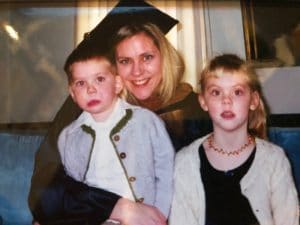 By some miracle that same year, I ended up at a seminar called "Be Your Own Boss", in King of Prussia. The workshop was geared towards Registered Dietitians wanting to open up their own Private Practice. In less than 8 hours, Faye Berger Mitchel , RDN and the late Anne Litt MS, RDN had convinced me that private practice was doable and profitable.  They also mentioned that there was a Dietetic Practice Group (DPG) through the Academy of Nutrition & Dietetics called Nutrition Entrepreneurs which would also provide ongoing support.
A TURNING POINT
That seminar was pivotal to my professional and personal growth changing my career trajectory for the next 20 years.  Despite having previously worked in an outpatient research clinic, the seminar gave me the confidence and tools to open and grow my own successful pediatric private practice called "Nutrition for Kids Teens and Families" from 2002-2014.
USING MY SKILLS & TALENTS
That seminar also got me involved in Nutrition Entrepreneur's. This dietetic practice group specializes in speaking, writing, technology, media, social media, private practice and corporate wellness. All areas I loved to work in and continued to learn more about. Over a seven year period I took on volunteer roles involving sponsorship, membership, marketing, social media as well as Chair, Chair-Elect and Past Chair. I met hundreds of enterprising, creative, forward thinking dietitians whom today I am proud to call colleagues and peers. (Thank you Lauren Swann MS, RDN and Denice Ferko-Adams MPH, RDN, FAND for your letters of support. )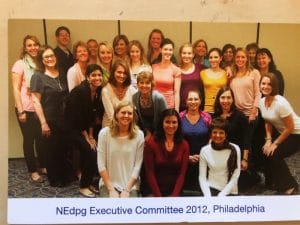 MY TRIBE
Most importantly, Nutrition Entrepreneur's allowed me to be with other like-minded Registered Dietitian Nutritionists. With each other's support I ventured into unknown territory, blogging and using social media for marketing, getting into corporate culinary team building , speaking and Medical Nutrition Therapy counseling. We had Mastermind Groups (Thankyou Dr. Penny Wilson PhD, RDN  and Rebecca Bitzer MS, RDN ) and coaching groups and active online mailing lists. I had found others who were not afraid to market themselves, get out there in the media, handle multiple practices, write or speak, work with corporations and culinary programs or get into technology and social media. For us failure just meant more experimenting and success was about the journey more than the end result.
NUTRITION ENTREPRENEUR's LIGHTS THE WAY
It's been almost 20 years since that Be Your Own Boss Seminar when I discovered NE. The DPG has now grown into a power force of over 4000 forward thinking and empowered visionary dietitians. I am grateful and humbled to receive this award – it is a symbol of those Nutrition Entrepreneurs who have journeyed with me from the past, and it serves as a beacon of light guiding and encouraging future members ready to delve into their own unique nutrition adventures and discoveries.