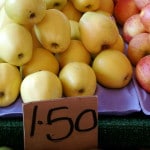 Today is World Food Day. Nearly a billion people don't have enough to eat especially is South Asia and Africa. But what about the state of food insecurity here in Philadelphia? The holidays are headed our way and in Philadelphia alone 1 in 4 people struggle with hunger.
The Great Philadelphia Coalition Against Hunger states that
" SNAP (food stamps) and other federal nutrition programs face significant threats as Congress negotiates its budget for 2012. The House version of the budget slashes SNAP funding by $127 billion over the next 10 years. Pennsylvania alone would lose $4.11 billion in SNAP benefits."
In addition…
"In June, the House passed an Agriculture Appropriations bill that:
• Slashes $733 million from the Women, Infants and Children program (WIC) , which means that up to 700,000 mothers and children would lose the food vouchers and nutrition education they now receive through WIC. In Pennsylvania, 20,000 mothers and children would be cut from the program. (Having worked at WIC- itis one of my favorite programs- it does so very much for women and infants.)
• Cuts $38 million from the Commodity Supplemental Food Program, which would take away food from 150,000 seniors living in poverty across the country. In Pennsylvania, nearly 8,000 low-income seniors would no longer receive the program's "senior food boxes," which provide each recipient with enough food for 12 meals a month.
• Cuts $63 million from The Emergency Food Assistance Program, which provides food to food banks and other hunger-relief agencies throughout the country."
People like William Clark, President and Executive Director of Philabundance are working hard to combat hunger here in the Delaware Valley. " Philabundance is the region's largest hunger relief organization. In fiscal 2010, they acquired 21 million pounds of food, distributed 18 million pounds in their service area and exported 3 million pounds across the Delaware Valley.
Philabundance serves low income residents at risk of hunger and malnutrition, of which 23% are children and 16% are senior citizens. They get food directly into the communities though direct services programs or through a network of agencies. These agencies include food cupboards, neighborhood distributions, shelters, emergency kitchens and various social service agencies. Philabundance provides a reliable source of food to 9 counties in the Delaware Valley.
THREE WAYS TO TAKE ACTION AND HELP FIGHT HUNGER AT THE LOCAL LEVEL
1. Your tax-deductible contribution to the Greater Philadelphia Coalition Against Hunger will support work to feed more people in need and find sustainable solutions to end hunger in the region. https://org2.democracyinaction.org/o/6777/donate_page/donate
2. Donate, volunteer or advocate for childhood hunger. http://www.sodexofoundation.org/hunger_us/hunger/difference/difference.asp
3. Drive hunger from the community with Philabundance. Have a community School or Corporate Food Drive. http://www.philabundance.org/take-action/donate/give-money
Even though today is World Food Day, Hunger still hits home.