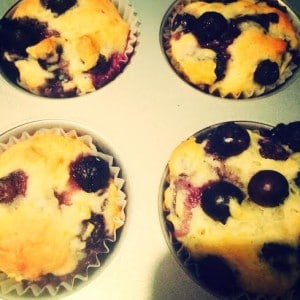 This recipe has been modified from thePioneerWoman.com from a recipe contest in 2008. Ellen F,. a fifteen year old submitted this recipe…I modified it to add more blueberries and I love that it includes yogurt!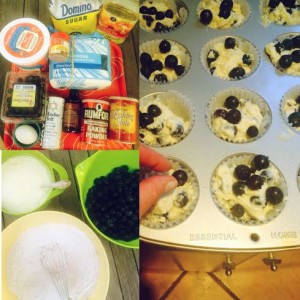 The Awesome-est Blueberry Muffins
3 cups minus 2 tablespoons flour
1 teaspoon baking soda
2 teaspoons baking powder
Heavy pinch of salt
Dash of Nutmeg
1 cup sugar
1/2 cup vegetable oil
1 egg
1 generous cup plain, unflavored yogurt
3 cups fresh blueberries
Vanilla Extract
Preheat oven to 350 degrees.
In a large bowl sift flour, baking soda, nutmeg, baking powder, and salt. Set aside.
In another large bowl whisk together sugar, oil, cap-ful of vanilla, egg, and yogurt. Add the dry ingredients and stir to a count of 10.
Add blueberries (2.5C) , reserving 1/2 cup, to mixture and stir 3 times.
Add mixture to paper lined muffin pans. Sprinkle remaining berries on top and press down lightly. Bake 20 to 25 minutes and allow to cool completely.